GETAROUND
ART DIRECTION
CREATIVE TEAM
Brittany Longoria, Cassie Simmons, Sarah Sanchez, Gabriela Martinez
OVERVIEW
Getaround is a new car sharing service that allows users to instantly access private owned vehicles for rent in nearby areas. Getaround enables people to share their cars while they're not in use. Members of Getaround can locate, pay for, and unlock Getaround cars that are close to them.
BRAND CHALLENGE
Getaround is based on the innovative idea of a peer-to-peer car sharing service. Although this service is relatively new, it is vital that Getaround promotes its unique selling points to set itself apart from competitors. As of now, Getaround lacks the personality and the overall messaging it needs to make the company seem personal & genuine. This lack of personal voice, coupled with the scarce interaction between drivers, car owners, and the company itself leads to a break in trust that may turn away future customers.
CREATIVE OBJECTIVES
Create a user flow that is simple and easy
Warm up the brand's tone
Strengthen communication between owners, drivers and company
Find Getaround's individuality
BRAND STRATEGY
Getaround helps expand people's garages by having a convenient and effortless renting experience. No one car can match all the needs of any person. People, unlike vehicles, are multifaceted and dynamic. A day could involve hauling, exploring a new city, picking up your kid's soccer team, and picking up a hot date. Get around gives you the option to find your drive when you need it.
You are limitless, undefinable, and multifaceted. No one car can define your dynamic lifestyle. You have an endless to-do list and each task requires a specific car. Whether you're hauling furniture, picking up a date, exploring a new city or doing it all in one day, Getaround has the cars that are right for you. We have what you need —when you need it.
TAGLINE
Getaround—Find what drives you.
TARGET AUDIENCE
DRIVERS:
We are talking to a younger generation from 19 to 35 years of age, that are smartphone savvy so that they may easily access and use the technology to open their car. Our company targets urban cities that will allow the customer to access a large selection of cars, variety and number in mind. We are targeting those who rely on events that are a limited time. Getaround allows the customer to independently use the car so that they don't rely on public transit or someone else to give them a ride to their errand/event.
OWNERS:
Owners would range from 20 to 45 years old. These are people that have a set schedule, have a car to spare, and are environmentally conscious.
IDENTITY
LOGO
The mark signifies a location marker and the form is reminiscent to the type, playful and friendly. There are two color variations of the logo depending on the backgrounds they are displayed on.
COLOR PALETTE
The color palette was chosen to convey the notion of an open road ahead for our customers. With the wide variety of vehicles to choose from and hourly rentals available, anything is possible.
TYPE PALETTE
Our typefaces Bariol, Bariol Serif and Bukhari Script were chosen for their friendly tone and rounded forms which mimic the curves of our logo.
ICON SYSTEM
There are two separate icon systems, one set to filter out the action you wish to fulfill with the car you rent and the other set let's the customer know of the features the car will offer.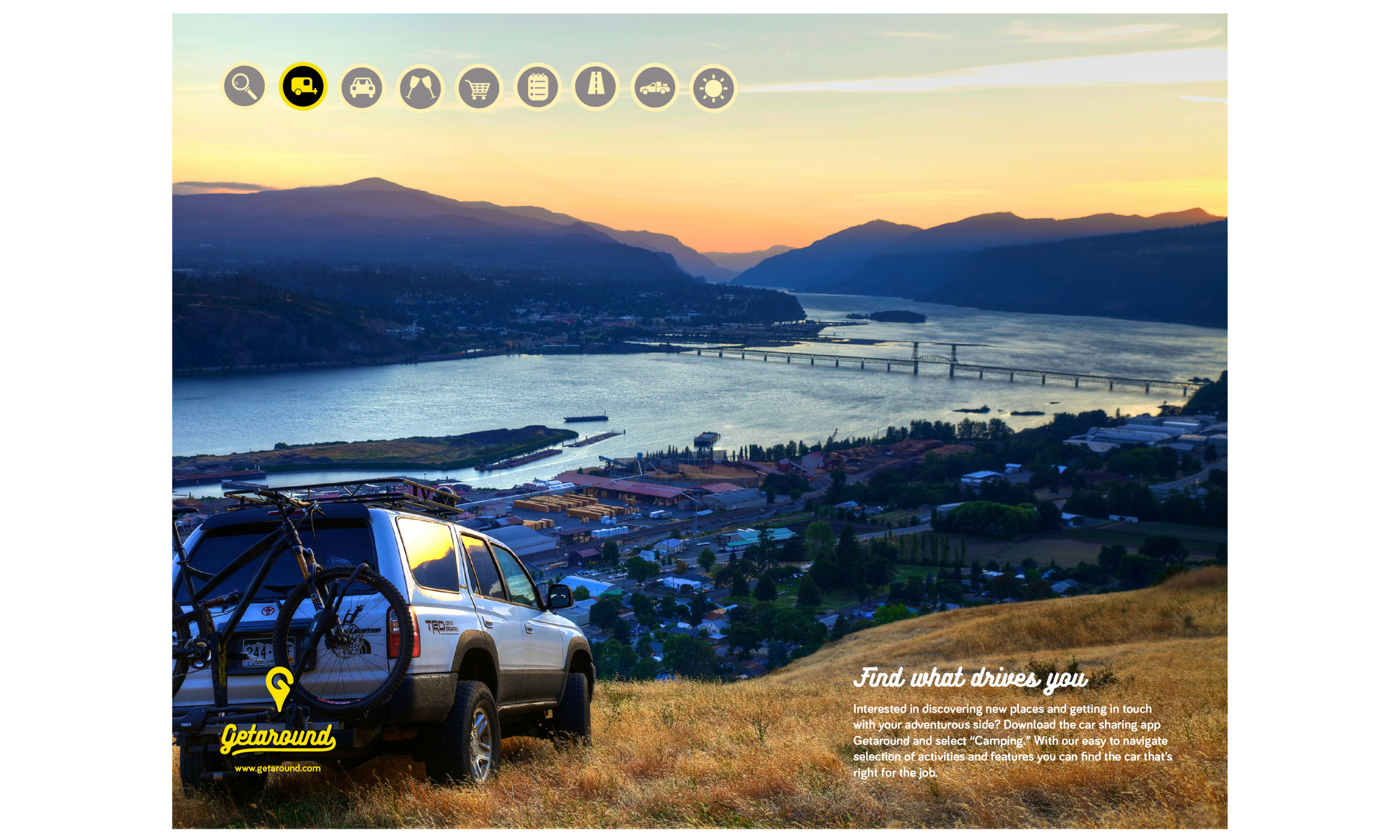 ADVERTISEMENT
The advertisements will appear in outdoor areas where people would be walking by or about to board their means of transportation. The ads depict a Getaround vehicle making its way through a landscape; with some semblance as to what the vehicle may have been rented for. An icon system appears at the upper part of the ad, and a corresponding feature is selected. This selected feature shows the viewer what the vehicle was being used to achieve and this in turn suggests to the viewer that their goals could also be met through Getaround.